Skin Needling and Rollers for Scar Reduction (by Dr. Phillipa McCafferey)
A MUST READ:
http://www.scar-reduction.com/skin-needling-copper.html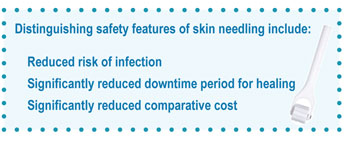 Written by Cosmetic Physician Dr. Phillipa McCafferey of
Clear Skin Care in Australia:

"Skin Needling has been perfomed for many years, using a variety of instruments, to soften depressed scars and deep line. Dr Philippe Simonin, a Swissfrench Dermatologist, published his results in Baran's Cosmetic Dermatology 1994, but his ground breaking technique, which he named Electroridopuncture (ERP), remained largely unknown to the wider medical community. In his study of 600 patients, he examined results for 2 patient groups—one with Skin Ageing and the other with old Scars. He performed 10 treatments on all patients.
In the patient group with Skin Ageing, 40% showed significant improvement, 22% moderate improvement and 13% some improvement—as measured by comparative skin imprints. In the patient group with old scars, 60% improved with 5-6 treatments. Best results were obtained for old fibrous and depressed scars.

Another pioneer of Skin Needling was Dr Andre Camirand, a Canadian Plastic Surgeon who made a chance observation of improvement in the texture and depression of the scars of some of his facelift patients, who had undergone tattooing for scar camouflage. He experimented with tattooing facelift scars without pigment, and noted improvement in texture and colour. He published an article on his results inJACPS in 1992. Dr Camirand postulated that hypochromic (depigmented) skin repigmented through the transplantation of melanocytes (pigment producing cells) from normal skin into the hypochromic (depigmented) skin during the needling procedure. He also reported flattening of hypertrophic (overgrown) scars. He performed his needling procedures using a high speed tattoo gun, under local anaesthesia and treated each scar to pinpoint bleeding. He repeated the procedure every 2 to 8 weeks and no side effects or complications were reported.
Skin Needling can be safely performed on all skin colours and types. There is no risk of post-inflammatory hyperpigmentation (pigmentation of the skin as a result of skin trauma) as the melanocytes remain, like the dermis, intact during Skin Needling. This is the major distinguishing safety feature when comparing Skin Needling and other invasive procedures that are used to treat deep lines and depressed scars, ie laser resurfacing, deep chemical peels and dermabrasion. Skin needling with a skin roller produces hundreds of tiny dermal injuries. Each dermal injury triggers the body's natural wound healing response within the skin, producing and depositing new collagen in the treatment area. Each successive treatment triggers the production and deposition of new collagen that progressively fills in depressed scars and deep lines. This infilling process can continue for up to 12 months after a treatment has been performed.

Results vary between patients, with some achieving 90%+ improvement in scarring and others less than 50%. However, all patients achieve some improvements. There are now a number of skin rollers available for home use and they come in many different needle lengths, needle diameters and needle numbers, which can make it very confusing for their users. In my own practice, I have tried many different needle lengths and needle diameters, in an attempt to determine the best combination for treating scars and rejuvenating the skin. The number of needles on a roller is the least important feature, as repeated rolling causes numerous dermal injuries. Needle diameter is very important as we are seeking to maximise the dermal injury without creating a new scar. In my experience, 0.25mm needle diameter is the maximum that can be used without causing a new scar in the skin. Smaller diameter needle skin rollers can be used but do not maximise the dermal injury and therefore will be slower to produce results.
Needle length is also a critical issue. The target when we needle the dermis is a layer in the upper dermis called the intermediate reticular dermis. This dermal layer contains the highest number of stem cells which are able to produce new collagen.
The epidermis (the outer layer of the skin) varies in depth from .05mm on the eyelids to 1.5mm on the soles of the feet. The epidermis of the face (other than the eyelids) varies from 0.3mm to 1mm in depth and therefore a 0.75mm to 2mm needle length is more than adequate to reach the intermediate reticular dermis. In my experience, needles more than 2mm in length have a tendency to catch and tear the skin.
What Is the Science Behind Scar Reduction? - Discover more at: www.scar-reduction.com